Note: This site will not display correctly in Internet Explorer, please use another browser
Site Last Updated 25th July 2022
(Notice of Casual Vacancy for a Councillor)
Chittlehampton Parish Council
The object of this website is to present you with as much information as possible about the parish of Chittlehampton.

The site contains a brief history of the village, the local amenities, links to local businesses, a what's on guide and relevant reports on parish council meetings.
There is also a latest news section which includes up to the minute news, please visit this page.

Thank you for visiting our Internet site. As a service to the community, we wish to give you the opportunity to stay in touch with what is going on in Chittlehampton and the surrounding area. The site will be updated on a regular basis so that you will always be kept as near as possible up to date.
A Brief History Of Chittlehampton Parish
There has been a thriving settlement in Chittlehampton since circa. 700 A.D. in Saxon times. The village is situated 5.5 miles west of South Molton and 6.5 miles south-east of Barnstaple; the parish extending to approximately 13 square miles. The surrounding neighbourhood was ideal for farming and the village expanded as it became a centre for the area. The church and businesses grew as the neighbourhood needed support. Thus by the early 1900's, there were bakers, sweetshops, farriers, vehicle repairers and hardware sellers flourishing in the village.
As Chittlehampton expanded the centre of the village became The Square. It was flanked on the northern side by the church and the school and homes and businesses around the other three. There were reputedly 8 ale houses within the village. Today the one public house, The Bell, (Link to website) remains and along the main street the village shop sells produce and provides the local post office.
Chittlehampton is also home to the pottery and gallery of renowned potter Roger Cockram, who has had exhibitions and shows all over the world. Here you can purchase individual pieces of pottery as well as paintings and jewellery by his wife Ros. Everyone is welcome to visit and have a browse, here is a link to the website.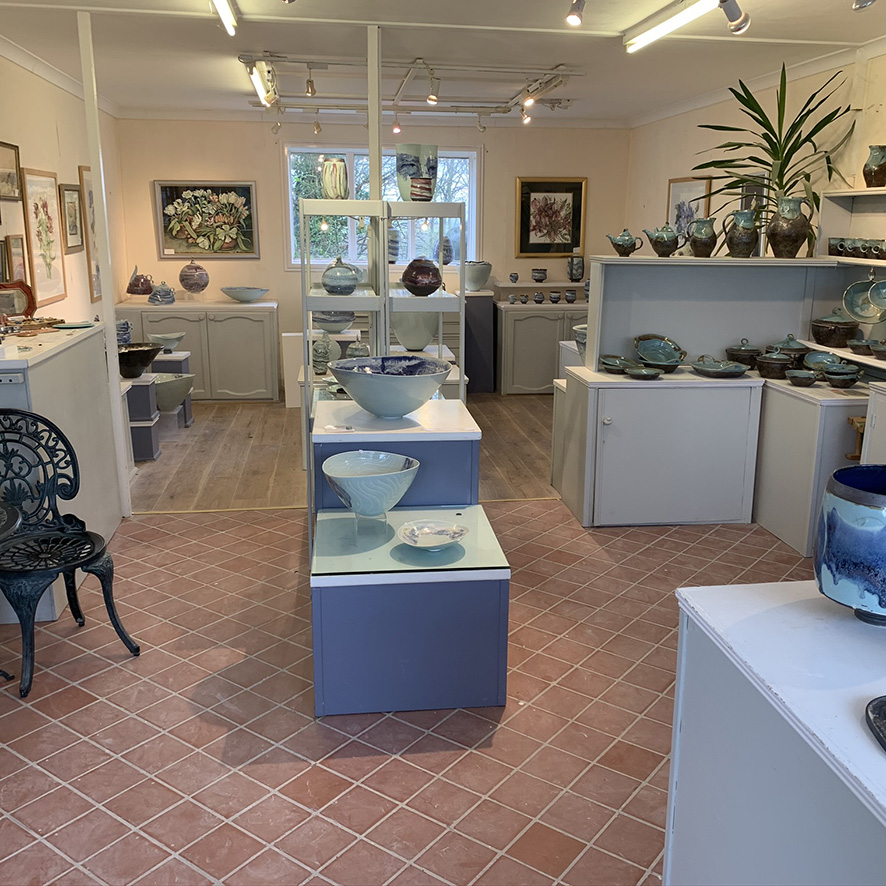 There are two churches within the parish. The church of St. Hieritha is very much a focal point of the village square. It dominates the higher land at the top of The Square, and it's dedication has proved a focus of village life. The saint Hieritha was martyred within the village in the 6th century and subsequently the villagers have re-enacted her martyrdom in a series of pageants in 1936, 1974 and in 2000 A.D. (Link to website)
Umberleigh Christian Fellowship is a small evangelical church situated by the bridge in Umberleigh, affiliated to the Evangelical Alliance which meets at 11am every Sunday for worship and Sunday school and Sunday evenings for meetings and housegroups. (Link to website)


The weather has also played a part in the history of the village. The River Taw, which flows through Umberleigh and is the south-western border of the parish, has risen so far in the past it caused flooding. In 1960 the properties bordering the river were beneath 28 inches of water. Later, in 1968, the waters rose to within a few inches of that level. Although Devon is not generally known for its snowfall, in 1978 there was a blizzard that filled the lanes with snow and there was no traffic movement of any kind. Many isolated hamlets were completely cut off. Sheep were lost and residents were reliant on stored resources.


Severe weather has provided the villagers with an excuse to combine to raise funds for the benefit of the church. In 1987 high winds caused a pinnacle from the church tower to crash through the church roof and embed itself within the nave. Similarly, in 1988 two further pinnacles toppled and then 10 years later, in 1998, the two previously badly repaired pinnacles toppled again. Each time the villagers rallied and raised the funds to repair the damage.


The population of the village increased and in 1801 was recorded as 1,640 but was 1,342 by 1901. Today the population of the parish is approximately 800.
Children from the parish were taught in the public elementary school which was founded in 1865 and included a house for the school teacher. It was originally built to accommodate some 200 children, who would use The Square as their playground. It is still open today. (Link to website) Also there is a school in Umberleigh. (Link to website)
CHITTLEHAMPTON PARISH COUNCIL
MEETING DATES FOR THE FULL PARISH COUNCIL 2022
7:30 PM START (UNLESS OTHERWISE STATED) AT THE METHODIST'S HALL
12th January 2022
9th February 2022 – 7:00 pm start as meeting with NDC's Service Manager (Development Management)
9th March 2022
4th May 2022 (standard parish council meeting plus the annual parish council meeting)
8th June 2022
13th July 2022
14th September 2022
12th October 2022
14th December 2022
Help For The Vulnerable
In these difficult times if you need help or know someone who does, please somehow put a post on the Chittlehampton Community Facebook page, with over 400 members someone will respond to your request. Please stay safe.
Latest vaccination dates for sites in our area
The latest vaccination dates for sites in our area can be seen on the Latest News page of this website.

Do I have COVID or a cold? How to tell the difference
Although the vaccines are doing a great job at reducing severe illness, hospitalisations and deaths, you can still catch and pass on the virus even if you've been vaccinated. With so much crossover of current symptoms between COVID and a cold, it can be difficult to know what is making us unwell.
Here are some tips for how to tell the difference between the viruses and when you should get tested.
How do I know if I have a cold or COVID-19?
At the beginning of the pandemic in 2020 the main distinguishing symptoms of COVID-19 were thought to be fever, cough and loss of smell (anosmia).
It is now known that there are more than 20 symptoms of COVID-19, including headache, runny nose, sneezing and sore throat. Over the past 18 months the pattern of symptoms has changed as the virus has evolved and more people have been vaccinated. Many of the symptoms of COVID-19 are now the same as a regular cold, especially for people who have received two doses of the vaccine, making it hard to tell the difference.
Take a look at the lists below to know which of the most common COVID-19 symptoms you should be looking out for, depending on whether you've been vaccinated or not.
Most common COVID-19 symptoms if you're fully vaccinated:
Runny nose
Headache
Sneezing
Sore throat
Loss of smell (anosmia)

Most common COVID-19 symptoms if you're unvaccinated:
Headache
Runny Nose
Sore Throat
Fever
Persistent cough

Loss of smell (anosmia) comes further down the list for unvaccinated people but it's still an important predictor of having COVID-19 rather than a regular cold. You can check your sense of smell easily at home by sniffing scented foods or products, or noticing whether familiar foods start to lose their flavour or taste strange.
Reassuringly, even if you do catch COVID, data shows that people who are double vaccinated are less ill and get better quicker than those who haven't yet had the vaccine. A double dose of the vaccine also makes you much less likely to get Long COVID.
What should I do if I think I might have COVID?
COVID-19 is still spreading. The only way we can bring the pandemic to an end is through vaccination and stopping the virus from spreading between people.
If you feel newly unwell, especially if you're suffering from any of the common COVID symptoms, you should stay home and get a COVID test, even if you've been vaccinated. This is particularly important if you notice any changes to your sense of taste or smell.
If you test positive you should self-isolate to avoid passing on COVID-19 to those around you.
A positive result from a lateral flow test is highly likely to be true. However, a negative result from a lateral flow test is not reliable enough to be sure you're definitely not infected, so if your symptoms persist it's best to get a PCR test to be sure. At the moment*, you can only get an NHS PCR test if you have any of the 'classic three' symptoms of cough, fever and loss of smell (anosmia).
Even if you don't have COVID, the pandemic has taught us that it's a good idea to stay home to avoid giving your germs to others. If you have to go out, consider wearing a mask, cover your coughs and sneezes with your elbow, and wash your hands regularly.
* Information current as of the 21/09/21.
Coronavirus Advice

The following link is to the NHS coronavirus website:
https://www.nhs.uk/conditions/coronavirus-covid-19/
Pesky Potholes!
Did you realise that you can report potholes that you find yourself? This can be done via the following Devon County Council website:
https://www.devon.gov.uk/roadsandtransport/report-a-problem/report-a-pothole.
Alternatively you can just Google "Devon potholes" and follow the first suggested link.
You can then report the pothole by clicking on its location on an interactive map. There is even an opportunity to upload a photograph of the pothole to show how bad it is and help identify the one you are reporting.
However, not all potholes qualify for a repair. In order to be repaired a pothole must:
1. be over 40mm deep
and
2. be wider than 300mm
and
3. have a vertical rather than a shallow, sloping edge.
Once you have registered your pothole, DCC aim to have it investigated within 3 days. If the investigation confirms that it qualifies for repair, it will be added to their list of repair work to be undertaken.
Please Note
North Devon District Council have requested that you put glass and plastic in separate containers to speed up the recycling collections as they are running on reduced staff, blue bins have now been distributed for the glass. Please comply with this request in these difficult times.
Schools
The following link is from Devon County Council (the LEA)
https://www.devon.gov.uk/schools/closure/?utm_source=Facebook&utm_medium=social&utm_campaign=SocialSignIn
Businesses & Employers
The following link is from GOV.uk and is updated regularly so would need to be checked daily:
https://www.gov.uk/government/publications/guidance-to-employers-and-businesses-about-covid-19/covid-19-support-for-businesses
https://www.gov.uk/government/publications/guidance-to-employers-and-businesses-about-covid-19/covid-19-guidance-for-employees
Council Buildings
The following link gives you wording for closure of buildings and gives links to the NHS and Public Health England:
https://barnstapletowncouncil.gov.uk/_webedit/uploaded-files/All%20Files/Covid%2019/Council%20Buildings.pdf